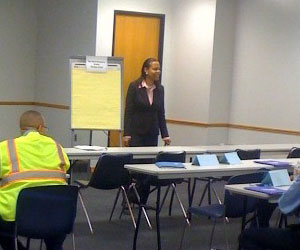 Speaking
Arquella is a frequent speaker to churches, companies, and professional organizations, drawing on her experience in the field of human resources. She offers motivating strategies, tips and solutions that address real-life problems. Arquella's motto in speaking is to: "Inspire People…Inspire the Bottom-Line for results."
What Attendees are saying:
"Thank you for sharing as the keynote speaker for Restoring Hope International Fellowship Church's Women's Ministry (Women of Hope). You did an excellent job and the feedback was great."
~Thecia Jenkins
"Arquella Hargrove is truly a gifted speaker with a powerful and lasting message.  Her real-life strategies challenged us as women to pool our resources and make a difference in the life of other women during the Power of 2 Luncheon.   She was an inspiration to all!"
Deborah Elum, President All That Productions, Inc.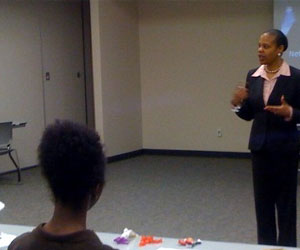 Training
Many times professionals are promoted to leadership positions because they have the technical abilities; however, the soft skills may be lacking. We work with leaders to transform them into the ideal leader for a competitive advantage.
 What Attendees are saying:
"Arquella,
You are a great facilitator and I look forward to the next session!"~
D. Chambers, Harris County Sheriff Department
"Wonderful program and a very good reminder that we are leaders and we have much to offer!"
Lucus, CFO, AutoCare Company
Key expertise areas:
Business Etiquette
Coaching
Conflict Resolution
Diversity – Cultural and Generational
Emotional Intelligence in the Workplace
Ethics
Forming Strategic Relationships/Partnerships
Human Resources Management
Interviewing Skills
Leadership
Organizational Communication
Why Arquella Hargrove?
Arquella will develop customized "signature" programs that are relevant to the audience. All training programs have a coaching component to further enhance the learning and development for the leader. She has a solid background in Human Resources Management and has worked with both large and small businesses in the areas of leadership and professional development. Arquella always makes a connection with a diverse audience motivating them to embrace effectiveness and efficiency. Her engaging, empowering and enlightening presentations bring out the best in the participants. Arquella's programs are available based on the needs of the business:
Keynote Presentation: 1 hour, great for variety of groups
Workshop/Breakout Session: 1 hour up to 8 hours, highly engaging and interactive, informational
Webinar Series: 1 hour, accessible, convenient, and great tool to reinforce learning
Signature Programs:
The Power Partner Approach Program
™ Professional Alliances are the Backbone of the Business World. Everyone knows that they need these types of relationships, but most people are unsure how to develop them. Who is a good candidate? What do you say? How will it work? What's going to happen? There are so many questions, that most people never progress beyond the "wishing"?
Foundational Principles:
Networking is a learned discipline
Networking and Selling don't mix
Spend your time at events pre-qualifying and gathering information
Planning is key to networking success
Operate beyond your Comfort Zone
This program is great for business development, business owners, network marketing and any professional developing relationships for increased business opportunities. The session is delivered via webinar and workshop format. For more information on scheduling and pricing, contact Arquella Hargrove for details. The other signature programs are
Transformational Leadership
and
Women and Leadership-Collaborating, Connecting and Compromising to Win.
These are just some of the topics Arquella Hargrove can cover. Don't see what you're looking for, just ask. We will customize any program to meet your needs.
Request Arquella 
To book Arquella Hargrove for a speaking engagement on these or other topics relevant to your organization, please send inquiry to: Phone: 713.501.9344 Email: info@arquellahargrove.com